I have been very keen in networking since I started my business and always wonder how we can fully maximize networking opportunities to grow our business. It is a life-changing experience after I get to know of BNI and now, after reading The 29% Solution book by Ivan Misner and Michelle Donovan.
To me, The 29% Solution is a guide for all Business Owners to follow. It contains 52 weekly strategies on how we can implement to expand our network and let it work for us! I am so excited after reading it and would like to share with you a quick review.
The 52 strategies are divided into 8 sections and I will mention some of them below as I find them highly vaulable.
Section 1 – Create Your Future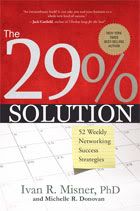 Ivan Misner started off the book asking the readers to plan and pen down our targets. I feel that this is so important because without an aim in mind, it is easy for us to digress or distracted along the way. Section 1 concludes with a list of top 10 Traits of a master networker which I think every Business Owners should bear these in mind at all times. Here is the top 5 traits:
Always follow up timely with referrals
Having a positive attitude
High enthusiasm / motivation
Trustworthiness
Good listening skills
Section 4 – Get Value for Your Time
I love this section! In fact, this is one of my favorite chapters of the book!
Actually this section illustrates why many Business Owners find that networking is ineffective. The 8 strategies in this section teaches us how to make every activities meaningful. For example, the week 23 strategy is to have purposeful meal meetings. Ivan Misner also gives 2 examples on how we can help someone by introducing them to someone we know during meal meetings.
Section 8 – Do What Others Don't
This last chapter contains 11 strategies how you can do things differently from the others can make a deep positive impact in your business! For example, in week 47, the strategy is "Read the paper, with referral intent". This does not mean referrals for you, but for your business associates =)
Imagine this, how will you feel when one of your business associates call you up informing you when they come across a company that is looking for the services / products you are offering? You will definitely have them in mind next time you are reading the papers or other references!
This is really a great book but what separates from the most of the readers is following through. Let us work on the strategies together! Have you read the book? Please share your thoughts below.